David Axelrod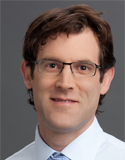 David is a Pediatric Cardiologist at the Lucile Packard Children´s Hospital at Stanford, in Palo Alto, California. He graduated from Dartmouth College in 1998 and received his M.D. from Ohio State University College of Medicine in 2002. David completed his internship and residency in Pediatrics at the University of California in San Francisco and completed fellowship training in Pediatric Cardiology (2009) and Pediatric Critical Care (2011) at Stanford. 
Although he had heard of Barth syndrome earlier, David became more fully aware of the syndrome through a meeting with Shelley Bowen at a medical conference in 2008 and shortly thereafter helped diagnose and care for Barth patients in California. His family´s involvement with BSF dates back to 2002 when his then future wife served as a volunteer at the first official BSF Conference in Baltimore. 
David brings to the BSF Board the insight of a practicing Pediatric Cardiologist, the personal and professional experience of one who has cared for Barth patients and a prominent position in a major California teaching hospital. His interest in and dedication to our mission of catalyzing the development of treatments for this rare disease has been clear from our first meeting, and he also is eager to help us improve awareness within the medical community and find more families on the U.S. West Coast.