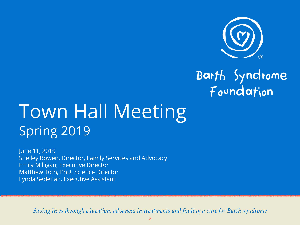 Thank you for joining us on Tuesday, June 11th for BSF's first TOWN HALL meeting. This was a chance for US to hear from YOU about what you want to see at BSF for the rest of the year, and for YOU to hear from US about what's been happening so far in 2019. Did you miss the Town Hall meeting? Below is the Power Point presentation from the meeting.
Share your ideas
Hear about BSF's advocacy agenda and recent FDA meetings
Get the latest updates for family resources
Learn how to get involved as a volunteer or on a committee
Be the first to know what's happening at the 2020 conference
Understand our 2019 communications approach
Learn about the most recent research, clinical trials and publications
For those who were not able to attend, the recording of the Town Hall Meeting is now available!
Emily Milligan

Matthew J. Toth, PhD

Shelley Bowen

Director, Family Services & Advocacy

Lynda Sedefian