OVER $110K RAISED FOR RESEARCH AT 2020 NY ISLANDERS GAME
Spotlight on the Barth Syndrome Foundation volunteers at the New York Islanders Game to promote awareness and raise funds to help those who have Barth syndrome.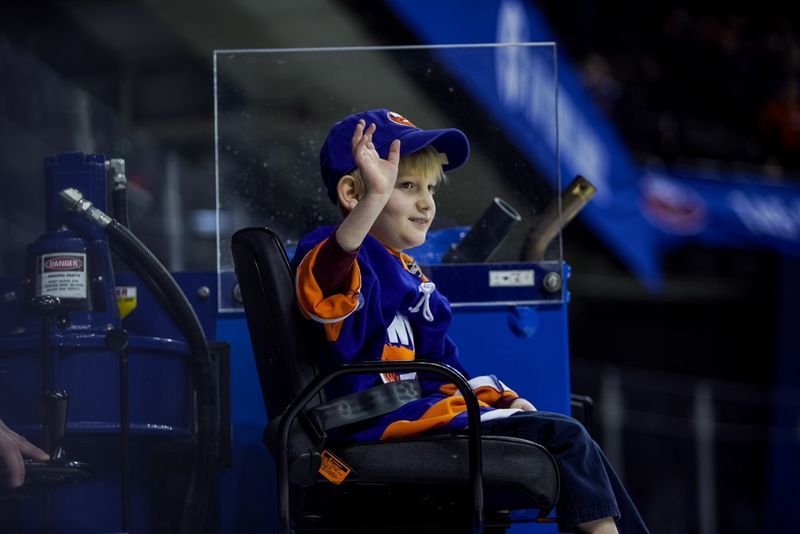 "Sports are his thing. This kid is crazy about football, baseball, soccer, hockey – but because of Barth syndrome he's usually just watching from the sidelines because he's just too weak to play. His heart, his muscles, his stamina – they are all affected in such a way that he struggles mightily to get through a day."
Connor Woodward, age 9 and living with Barth syndrome, dropped the puck at a special New York Islanders hockey game to promote awareness and raise funds to help those who have Barth syndrome."We are just so proud of him, and humbled by the passion and dedication of volunteers and donors who showed up to support us. We really felt like VIPs for the day." (Stacey & Kevin Woodward, Connor's parents)
For the 4th consecutive year, the NY Islanders, a National Hockey League team, have helped to raise awareness and funds for Barth syndrome by promoting the cause, sharing a public-service announcement, and inviting a child with Barth syndrome to drop the puck. The honor this year was given to Connor Woodward, a boy who loves all sports yet struggles mightily to get through the day due to his challenges associated with Barth syndrome. 
Steve McCurdy, Chair Emeritus of BSF, has been the organizing force behind this event since its inception. "Connor had the biggest smile on his face as he walked out on the ice, high-fiving the star players. And then, when our PSA played on the jumbotron during the game...wow, it felt so inspiring to be there and to reflect on the work we have done over the last 20 years. What an incredible opportunity to reach so many people and to help them become aware of Barth syndrome, and we raised over $110,000 for our efforts from fans and donors. All in all, a pretty good day!" See Steve's interview and the PSA with NHL All-Star Mathew Barzal above.
Barth syndrome is a rare, genetic mitochondrial disorder associated with life-threatening heart disease, muscle weakness, and a compromised immune system. Despite his love of sports, Connor's ability to participate is profoundly limited by his diagnosis. Connor is currently on three medications to support his weakened heart.  He also gets two injections a week of a drug used to help improve his immune system. Almost exactly eight years ago, Connor's parents received the diagnosis of Barth syndrome after a series of hospitalizations and diagnostic tests at Johns Hopkins Hospital. Ultimately, Connor was given the diagnosis of Barth syndrome based on a specific genetic testing panel for dilated cardiomyopathy.
"We received the diagnosis on Valentine's Day.  Connor and I had just baked cookies for my husband, Kevin.  He came home from work, and I just started crying," says Stacey Woodward, Connor's mother. "The first thing Kevin did was google Barth syndrome. And then he called Barth Syndrome Foundation." Barth Syndrome Foundation (BSF) was established two decades ago by a few valiant families who were amongst the first to have boys diagnosed with the rare condition. Amongst those founders was BSF's current Director of Family Services, Shelley Bowen. "She gave us hope, and also a sense of direction," remembers Kevin. Shelley also encouraged the Woodward family to bring Connor and attend BSF's annual Scientific, Medical and Family conference. "We were so nervous about meeting other families with Barth syndrome, and we were still dealing with the shock of the diagnosis. But as soon as we got there, it felt like home. Today those friends are my lifeline, and their children are like brothers to our son. On top of that, the research that is conducted at that meeting has changed the landscape of Barth syndrome."
Support kids like Connor! Make a donation as part of the 2020 New York Islanders awareness event.
---