Connor Woodward will Drop the Puck at 2/1/20 NY Islanders Game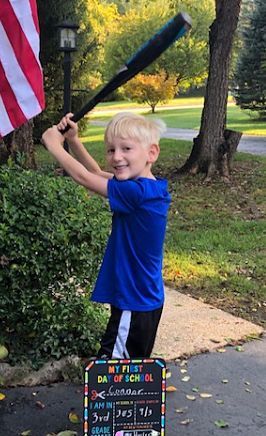 "Sports are his thing. This kid is crazy about football, baseball, soccer, hockey – but because of Barth syndrome he's usually just watching from the sidelines because he's just too weak to play. His heart, his muscles, his stamina – they are all affected in such a way that he struggles mightily to get through a day."
Connor Woodward is a 9-year old Maryland boy who is living with Barth syndrome, a rare, genetic mitochondrial disorder associated with life-threatening heart disease, muscle weakness, and a compromised immune system. Despite his love of sports, Connor's ability to participate is profoundly limited by his diagnosis. Connor is currently on three medications to support his weakened heart.  He also gets two injections a week of a drug used to help improve his immune system. Almost exactly eight years ago, Connor's parents received the diagnosis of Barth syndrome after a series of hospitalizations and diagnostic tests at Johns Hopkins Hospital. Ultimately, Connor was given the diagnosis of Barth syndrome based on a specific genetic testing panel for dilated cardiomyopathy.
"We received the diagnosis on Valentine's Day.  Connor and I had just baked cookies for my husband, Kevin.  He came home from work, and I just started crying," says Stacey Woodward, Connor's mother. "The first thing Kevin did was google Barth syndrome. And then he called Barth Syndrome Foundation." Barth Syndrome Foundation (BSF) was established two decades ago by a few valiant families who were amongst the first to have boys diagnosed with the rare condition. Amongst those founders was BSF's current Director of Family Services, Shelley Bowen. "She gave us hope, and also a sense of direction," remembers Kevin. Shelley also encouraged the Woodward family to bring Connor and attend BSF's annual Scientific, Medical and Family conference. "We were so nervous about meeting other families with Barth syndrome, and we were still dealing with the shock of the diagnosis. But as soon as we got there, it felt like home. Today those friends are my lifeline, and their children are like brothers to our son. On top of that, the research that is conducted at that meeting has changed the landscape of Barth syndrome."
BSF's 10th biennial conference occurs this year alongside BSF's 20th anniversary. Over the last two decades, BSF has made significant strides in establishing a research strategy to develop therapies for Barth syndrome while simultaneously creating awareness about this rare disease that affects only 250 individuals worldwide. One such awareness initiative is the annual opportunity for a child with Barth syndrome to drop the puck at the New York Islanders Hockey game. The NHL team has been a great supporter of BSF, allowing BSF volunteers to raise much-needed funds at its games, and even making sizable donations on their own. This year, Connor will drop the ceremonial hockey puck at their game against the Vancouver Canucks on Saturday, February 1st at 1 pm EST. In addition, Connor will be honored during the game, raising awareness for Barth syndrome. "This is a real honor for our family because it's a legacy event that allows our kids with Barth syndrome to participate in something fun.  It gives them an opportunity to feel special and escape the reality of their illness if only for a brief period of time."
Join BSF's Watch Party on Facebook on February 1st from 1-4 pm EST, or watch via live stream.
Support kids like Connor! Make a donation as part of the 2020 New York Islanders awareness event.
---