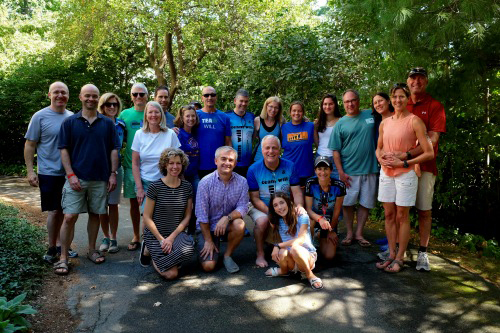 The kids are back at school, the air's getting a little cooler (though today feels like summer again!), and, once again, I'm training for the Westchester Triathlon. It's coming up soon...on Sept 23rd! As many of you know, for the past 12 years I've competed in triathlons as part of Team Will to raise money for the Barth Syndrome Foundation (BSF). This race will mark my 4th year racing in memory of Will McCurdy, rather than in his honor. 
Will's passing has motivated me to try to raise even more funds to help find a cure for this dreadful disease. Huge thanks to those of you who have generously supported BSF in the past.Your donations help…a lot! BSF has hit impressive milestones - they're currently working closely with the FDA to help the FDA understand the disease state and treatment needs from the patient perspective. Yet they really need our support to drive this progress forward.  
Please help me honor Will's memory by supporting a special fund that my friends Steve and Kate established after their son Will's passing.
Thank you in advance for your consideration and generosity. Together, we can find a cure for Barth syndrome.
MAILING ADDRESS TO SEND DONATIONS BY MAIL:
Barth Syndrome Foundation
PO Box 419264
Boston, MA 02241
Download Mail-in Donation Form