2017
#GivingTuesday - November 28, 2017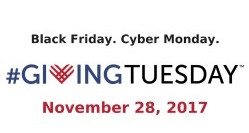 We did it. In ONE DAY, BSF raised over $60,000. We did it together, and we did it with LOVE. Thank you all for pushing hard to make a difference in the lives of these boys and men affected by this horrible disorder. That's thanks to you, our beautiful BSF family. Imagine the possibilities in what we'll tackle next!
---
Team Barth - Baltimore Running Festival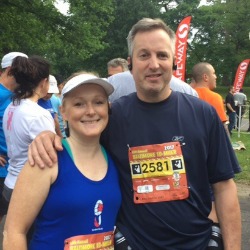 Together We Can Do Hard Things!
On October 21, 2017, together, Kevin & Stacey Woodward ran 39.3 miles in the Baltimore Running Festival on Saturday, October 21st. Kevin took on the half marathon and Stacey the marathon. They run because their son, Connor, can't.
To get ready for race day, Kevin and Stacey put in an average of 20—40 miles per week of running. All this in addition to working full-time and raising two kids. That's dedication! Their friends and family also showed their dedication by donating to BSF in Connor's honor! As Stacey and Kevin say to their sons, "Together, we can do hard things!" Yes, we can!
---
Westchester Triathlon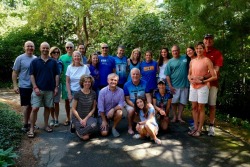 On September 24, 2017, once again, members of Team Will participated in the Westchester Triathlon. For the past 11 years, members of Team Will competed in triathlons to raise money for the Barth Syndrome Foundation. This race marked their 3rd year racing in memory of Will McCurdy, rather than in his honor. Will's passing has motivated Team Will to try to raise even more funds to help find a cure for this dreadful disease. Huge thanks to Team Will and those of you who have generously supported BSF in the past. Your donations help…a lot! BSF has hit impressive milestones in recent years, yet the community still needs our support to drive this progress forward.
---
Styrkeproven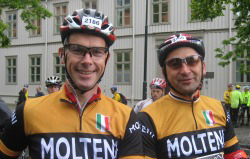 On June 16, 2017, team members Jan, Guido, Ruud, Serge, David, Marco and Koen participated in the Styrkeproven Trondheim - Oslo Marathon, one of cyclings real classics. Feared and loved by riders for half a century, nothing comes close to completing this race. Proceeds raised supported the Barth Syndrome Foundation.
---
Happy Heart Week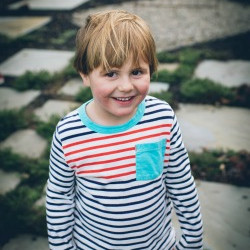 Happy Heart Week is a virtual awareness and fund raising campaign centered around Henry's birthday. Henry's birthday is May 2nd. He is turning FIVE! All birthdays are milestones, but this one feels like an especially big one. Birthdays are always such a sweet celebration. But even more to us now, birthdays remind us in a very literal way of our gratefulness for each breath everyday and our time together here on earth. For Henry's 5th birthday, we are going to celebrate his beautiful life; his challenges with Barth syndrome; the other boys and men suffering from this disease and their families; and the great work the Barth Syndrome Foundation is currently doing. Thank you so very much for your support! We are forever indebted and grateful!