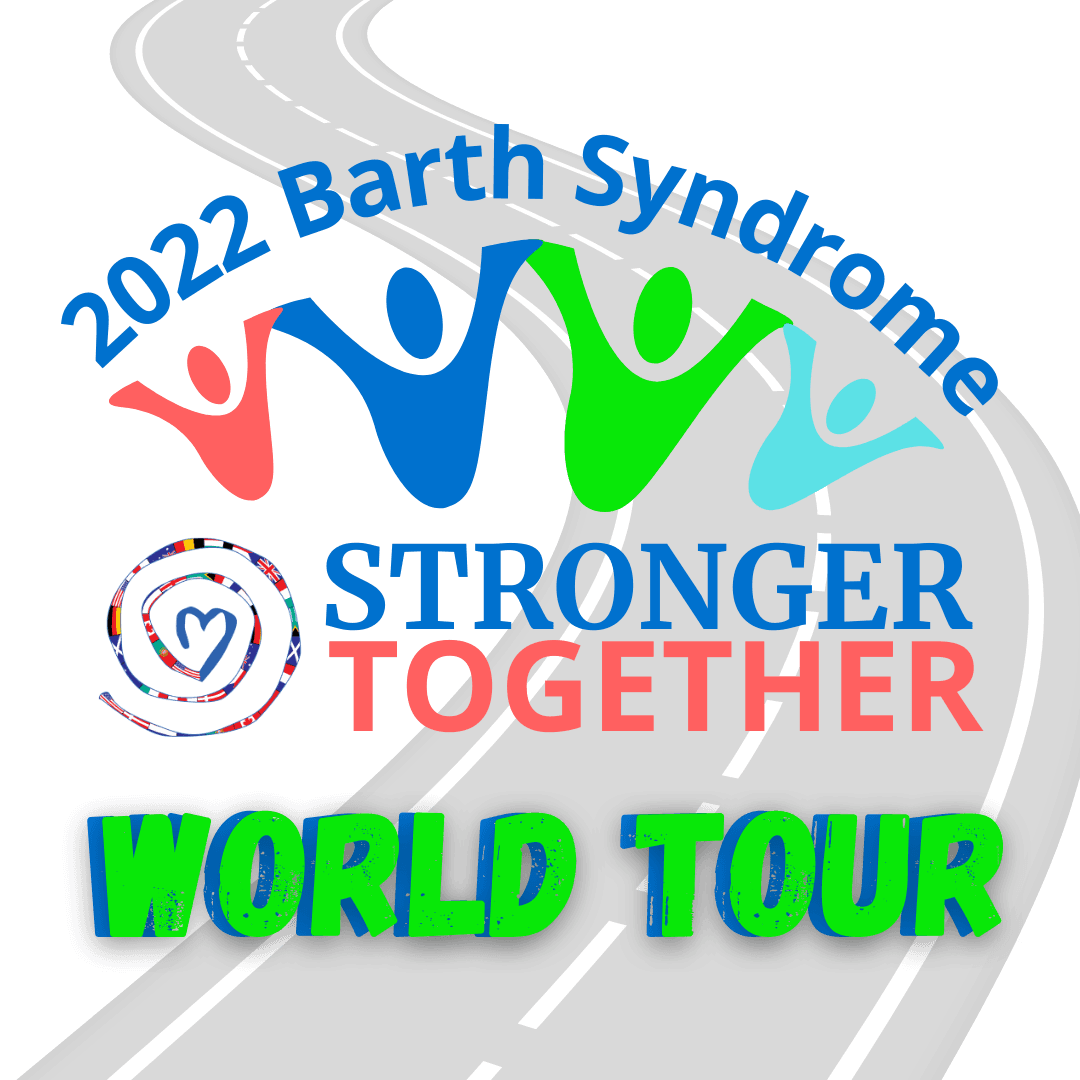 COMMITMENT TO OUR VISION 
#StrongerTogether was our theme for the 2022 International Barth Syndrome Scientific, Medical, and Family Conference. COVID-19 dampened our ambitions to come together in Florida for the Conference, yet we continue to believe that We Are #StrongerTogether. The BSF Community never, ever gives up on our ideals, so we are hitting the road to be #StrongerTogether around the globe. 
THE #STRONGERTOGETHER WORLD TOUR (#STWT) 
Our mission is "Saving lives through education, advances in treatments and finding a cure for Barth syndrome."  COVID-19 has not only changed the world, but it has caused us to think creatively about new ways we can achieve our mission. BSF's "#StrongerTogether World Tour" (#STWT) intends to expand the critical lifeline of the BSF community through regional events that are geographically accessible in these challenging times. Barth families, researchers, and healthcare providers will unite in strategic locations across the world for our common cause: to build and strengthen relationships through a shared experience of education, research, and camaraderie. We educate healthcare providers and families to learn new ways in which research and clinical advancements have the potential to allow those with Barth syndrome to live longer and fuller lives. We deepen researchers' resolve to end this dreadful disease by introducing them to the people who will benefit from their discoveries.  And we are creating opportunities to fortify the relationships between families so they can support each other across the journey of living with or caring for someone with Barth syndrome.   
PROPOSED TOUR-STOP AGENDA 
FRIDAY
Community members arrive at the venue in the afternoon. 
BSF-sponsored casual dinner at venue with (e.g.) pool time and games. 
SATURDAY 
BSF-sponsored breakfast at venue. 
"Meet the Docs" and interactive BSF progress updates. 
BSF-sponsored lunch. 
BSF-sponsored group field trip in the afternoon. 
BSF-sponsored dinner out on the town. 
SUNDAY 
BSF-sponsored breakfast at venue. 
Optional: Advocacy site visit. 
PUBLIC HEALTH GUIDELINES 
COVID-19 continues to affect the ways in which people can come together safely. This is especially true for individuals with Barth syndrome who are immunocompromised or immunosuppressed following a heart transplant. Out of respect and concern for our fellow community members living with Barth syndrome, all attendees are required to wear a mask indoors at #STWT.  
In addition, all #STWT attendees must certify that they took an approved COVID-19 diagnostic test within 24 hours of arriving and tested negative. We encourage all attendees to take an FDA-approved over-the-counter (OTC) COVID-19 diagnostic test 24 hours prior to arriving at the venue. (For international locations, please follow BSF affiliates' guidelines for approved, country-specific diagnostic tests.) Alternatively, BSF will provide a rapid test onsite for attendees to take upon checking in at the venue. 
Additional measures may be instituted depending on federal and state public health guidelines in effect at the time of the event. 
LOGISTICS FOR U.S.-BASED LOCATIONS 
BSF partners with local volunteer leaders to identify ideal lodging options, suggest field trip excursions, and resolve boots-on-the-ground logistical needs. 
Share with us your hometown pride! Reach out to Shelley Bowen at Shelley.Bowen@barthsyndrome.org to pitch a tour stop in your region of the U.S. 
TRAVEL GRANTS AVAILABLE 
Want to attend #STWT but finances are tight? Travel grants are available through BSF to cover 2 nights of lodging and other travel expenses to and from the venue so your family can hit the road for a #STWT location near you. Applications will open in April 2022. 
LIVE OUTSIDE OF THE U.S.? 
Contact a local BSF affiliate in Canada, the UK, France or Italy to learn more about opportunities to help families attend international tour stops. 
Canada: Susan Hone (honecs@accesscomm.ca) 
UK: Michaela Damin (michaela.damin@barthsyndrome.org.uk) 
France: Florence Mannes (florence@barthfrance.com) 
Italy: Paola Cazzaniga (cazzaniga.paola@gmail.com) 
YOUR DOLLARS CAN DRIVE CHANGE 
Contact Loree Tillman (loree.tillman@barthsyndrome.org) or a local BSF affiliate to help make #STWT a global reality through your financial support.