Barth syndrome is a rare disease, so each piece of data generated by participating in research is of outsized importance.
Our Research GUID (Global Unique Identifier) Program aims to:
Efficiently connect datasets with all other Barth syndrome research efforts
Promote data sharing and maximize the utility of each dataset
Ensure the fidelity and confidentiality of research participant's personal identifiable information (PII)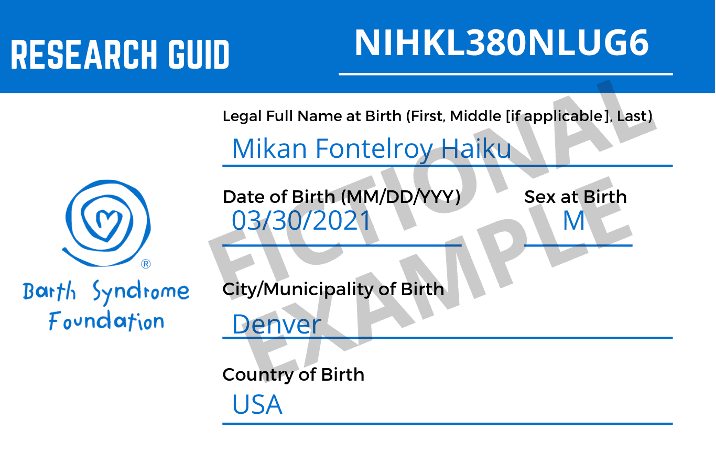 For Affected Individuals and Families:
When you participate in a research study, researchers typically assign you with an ID number that links to your data within that study. Each study uses its own ID number system, making it difficult to connect a participant's data across various studies.
The Research GUID program aims to tackle this obstacle by employing an ID numbering system that can be used to identify you and shared across many studies. Affected individuals and their family members can obtain a Research GUID number and card by enrolling in the Barth Syndrome Registry and Repository. To get your own Research GUID card, please contact us.
For Researchers:
A major challenge for Barth syndrome research is its rarity and the availability of data has a huge impact on scientific progress and treatment development. Our Research GUID is a secure mechanism that can efficiently connect datasets with various other Barth syndrome clinical research efforts by employing a common participant identifier within and across research studies and repositories. By using Research GUIDs, you will be able to link your dataset to the larger Barth syndrome dataset and identify matches, thus maximizing the utility of your data. If you are interested in employing the Research GUID in your research, please contact us.
How the Research GUID works: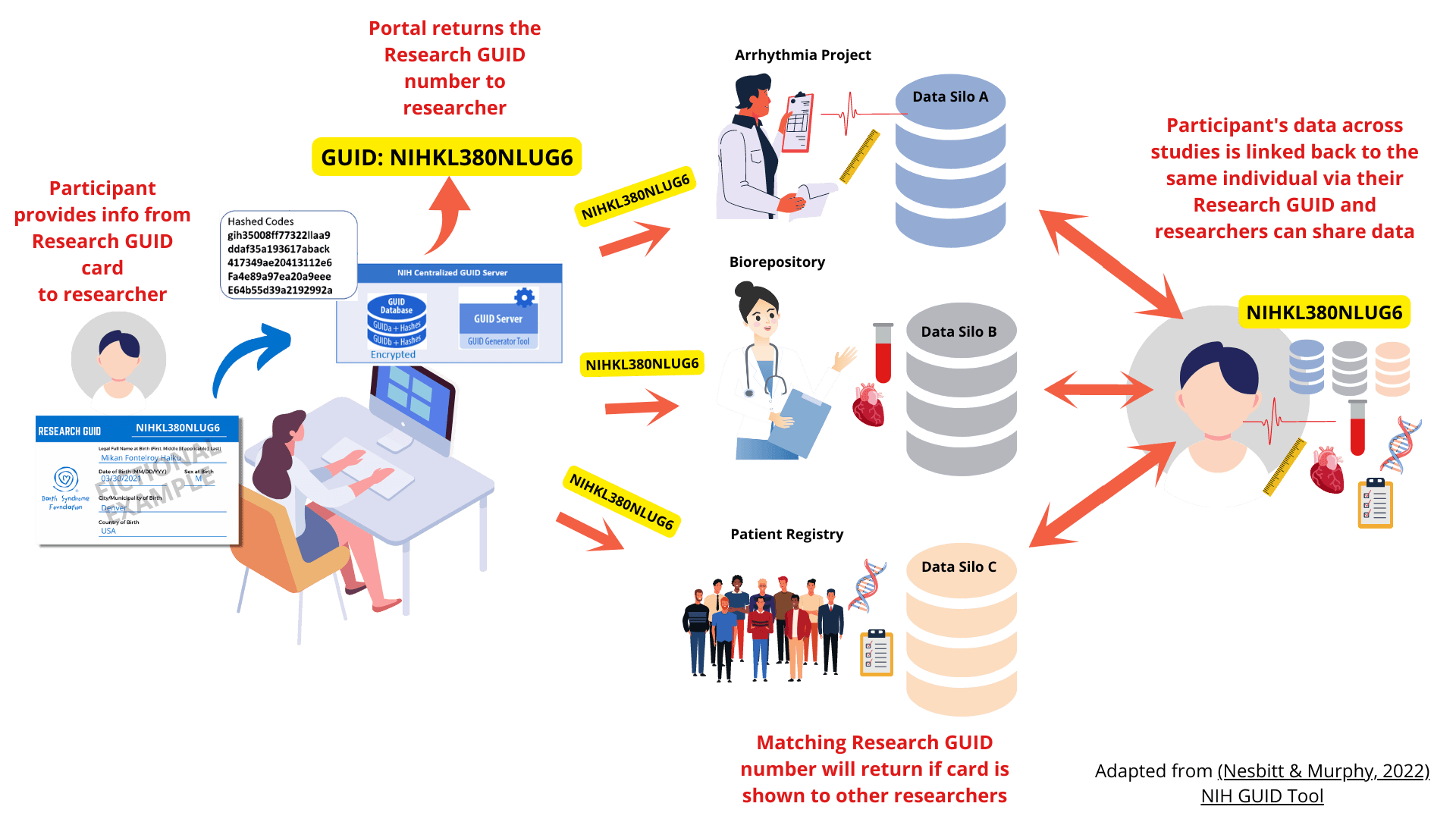 A participant shows their Research GUID card so that researchers collect the necessary PII and store that data in a local database that is not made available outside their institution.
9 fields required to generate a Research GUID are all listed on the card:
Complete legal given (first) name of the participant at birth  
If the participant has a middle name, the complete middle name of subject at birth   
Complete legal family (last) name of participant at birth  
Day of birth  
Month of birth  
Year of birth  
Name of city/municipality in which participant was born  
Country of birth  
Sex at birth  
Advantages of the Research GUID program  
BSF equips members of our community with Research GUIDs to ensure the PII given to researchers remains consistent across studies.

PII never leaves the organization that is inputting the data. Potential research collaborators will only need to communicate once through this universal, yet unique de-identified participant coding system for data. 

Once a researcher enters the necessary PII accurately into a secure NIH-hosted server, it will generate either a new GUID or match to the participant if they already exist in the system. This GUID will stay with that research participant forever, so the process only needs to be done once.

Researchers can match their list of Research GUIDs to BSF's master list and determine if there are matches across other studies and initiate the data sharing process with the other researchers/institutions. 
Contact Information:  
If you have questions about our Research GUID program, want to get your own Research GUID card, or are a researcher that wishes to implement the Research GUID for your study, please reach out to Melissa Huang, Clinical Research Coordination at melissa.huang@barthsyndrome.org