Strategic Initiatives Program
BSF's Strategic Initiatives Program is a flexible funding vehicle designed to advance our Barth syndrome research and development (R&D) pipeline. Complementary to our competitive seed grant program, the Strategic Initiatives Program (SIP) is geared to bolstering and accelerating the development of potential therapies and interventions for Barth syndrome as identified in BSF's strategic plan.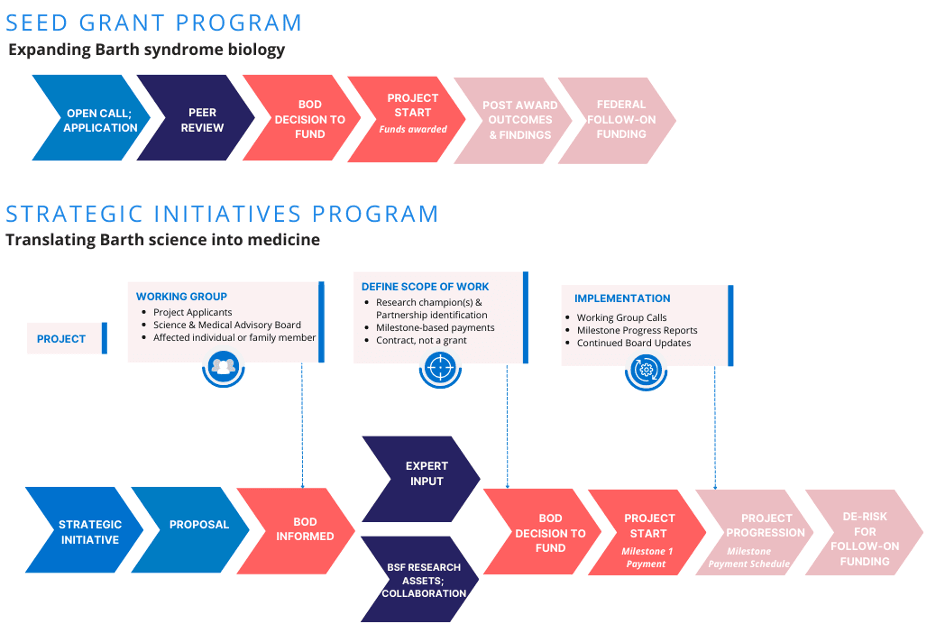 What is the BSF Strategic Initiatives Program (SIP)?
As part of BSF's strategic plan, specific development programs are identified as requiring targeted approaches to solving complex technical, manufacturing, clinical knowledge deficits, regulatory, and/or financial obstacles. SIP is a funding vehicle intended to address the challenges of advancing translational and/or clinical efforts to new inflection points and accelerating potential therapies and interventions along the R&D continuum.
Why did BSF establish SIP?
Since the launch of our peer-reviewed seed grant program in 2002, we have supported research projects that span a range of projects from discovery bench science, to physiological and psychosocial characterization our population, to innovative cellular and animal models of disease. As the understanding of underlying Barth syndrome science has evolved, so too has our approach. The newly created SIP requires the intersection of several important inputs: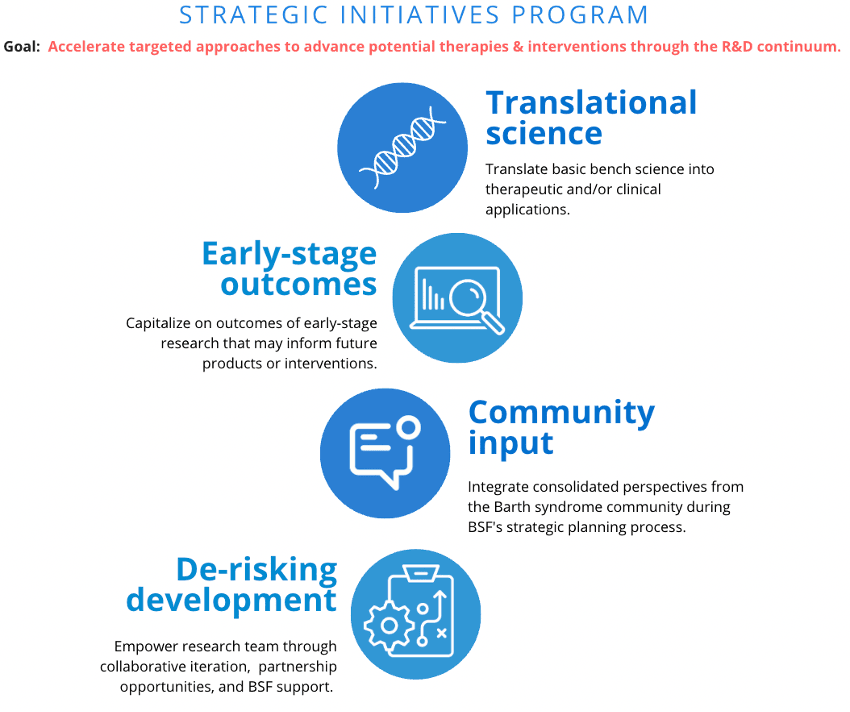 How is SIP different from BSF's seed grant program?
BSF's seed grant program calls for novel ideas across the spectrum of Barth syndrome biological pathways and clinical symptomology. Seed grant applications can potentially inform a product development program, or they can generate critical knowledge to inform the field on Barth syndrome biology. Commonly, successful seed grants produce pilot data required for follow-on funding from federal agencies.  BSF issues an open call for applications annually, with awardees announced in the Spring of each year. In short, candidates for funding through this mechanism are usually in the discovery or preclinical stage and do not necessarily require preliminary data to be successful, nor do they need to be tied to a potential development program.
SIP provides a funding vehicle for hypothesis-driven scientific or clinical questions that may inform or lead to future products or treatments for Barth syndrome. Unlike the seed grant vehicle, these programs have been identified as focus areas in BSF's strategic plan. It is expected that initial data have been published suggesting the potential application of a technology or treatment in the context of Barth syndrome. For product-focused proposals, academic researchers sometimes encounter gaps in funding and/or expertise on their team required to translate an important discovery or early-stage findings to later-stage development opportunities. This funding mechanism seeks to bridge resource deficit(s) and ensure momentum is maintained with the focus on specific areas of research and/or product development for Barth syndrome. This program funds on a rolling basis and incorporates independent expert perspectives as part of the development of a funding proposal, rather than as a traditional peer review process for competitive grant open calls.
BSF assesses potential projects for SIP based on several criteria, which include some of the following considerations: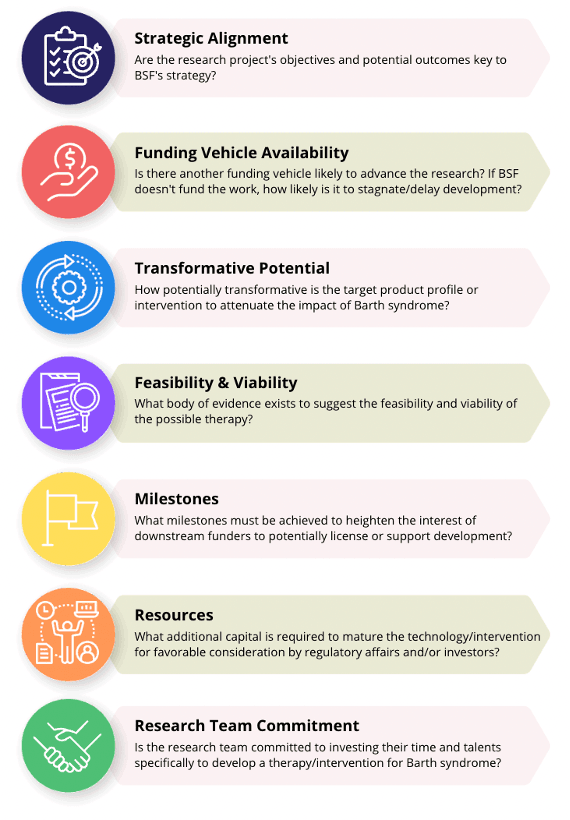 How does the postaward experience differ for awardees if funded through SIP?
Unlike traditional grant programs, BSF commonly incorporates milestone-based payments into the post-award activities of the project, particularly if human subject recruitment or go/no-go technical achievements are part of the development plan. BSF is also usually integrated into the project team as a critical collaborator. We recognize that each project is different, with varying needs and progressive stages, so BSF tiers our engagement according to the phase of the effort.
What projects have been awarded?
To date, two projects have been funded under the Strategic Initiatives Program:
The Collaborative Clinical Registry for Barth Syndrome, also known as the 'Arrhythmia Project', led by Drs. Reina Tan and Colin Phoon, aims to lay a foundation for understanding the natural history of Barth syndrome through analyzing clinical data from medical records, recruiting participants for extended cardiac rhythm monitoring, and combining precise variant data.  
The Optimization of Barth Syndrome Gene Therapy Project, also known as 'Novel Capsids Gene Therapy' (webpage coming soon), led by Dr. William Pu, is focused on the next generation of viral capsids, or packaging, and aims to improve the overall gene therapy package for Barth syndrome.
Researchers interested in learning more about this program should approach Dr. Melissa Huang (melissa.huang@barthsyndrome.org).