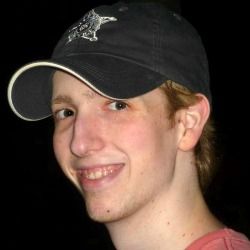 Will showed us all, every day, how to live a thoughtful, considerate life. He would often wake up from an operation and groggily thank the doctors and nurses who cared for him. He showed great interest and concern for the lives of others and never understood how or why it was that so many others considered him their hero and role model. His quiet persistence and determination inspired the creation of Team Will, a growing group of triathletes who compete at the highest levels in Ironman races across the country and around the world, raising funds and spreading awareness of Barth syndrome. He had a deeply inquiring mind, and, despite his physical inability to continue his own formal education, annually led a session in biochemical genetics to graduate students at Sarah Lawrence offering them the all-important patients' perspective. Furthermore, he consistently bested his father at dinner table discussions on a wide variety of topics.
Most of all, Will's love for his friends and family and ours for him will shine as a life-long beacon for all of us. He adored his sister, and his life was enriched vicariously through hers. His friends found him to be a discerning listener and an unrepentant cheerleader, and he maintained close ties with teachers from Mamaroneck, Greenwich Country Day and Rye Country Day schools for years beyond their classrooms together. Will made close, life-long friends, and, as one of them has told us, we will all have a Will-shaped hole in our hearts now that he is gone.
The Barth Syndrome Foundation has been a critically important part of Will's and his family's lives since it was founded. It has created a global "family" for Will and the other boys and young men and families affected by Barth syndrome, and, crucially, it leads the world in promoting and funding research which will ultimately mean no one else need suffer as Will has. We are establishing the Will McCurdy "Until Barth is Cured" Fund and ask that you consider making BSF a regular part of your charitable giving, because like Will, we will never, ever give up.  
Please support the Will McCurdy "Until Barth is Cured" Fund by using the form below. 
ADDRESS TO SEND DONATIONS BY MAIL:
Barth Syndrome Foundation
PO Box 419264
Boston, MA 02241