RARE Drug Development Symposium: A Virtual Event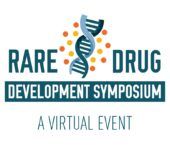 The RARE Drug Development Symposium is a two-day interactive event in partnership with Global Genes and The Penn Medicine Orphan Disease Center that focuses on educating both beginners and advanced participants on the drug development process. Here, all members of the rare disease community are encouraged to explore their role in the rare disease drug development process in new and innovative ways.
Due to the effects of COVID-19, this year's RARE Drug Development Symposium will be hosted as a two-day, interactive virtual event on June 11-12, 2020 10:30am – 4:00pm ET.
This personalized experience is dedicated to empowering the rare disease community to continue to push forward on necessary treatments and cures, despite experiencing setbacks as a result of COVID-19. We are excited to offer poster presentations and speakers on engaging new topics, including CureAccelerator Live!
Registration Pricing
Patient or Patient Advocate: $50
Academic or Government: $50
Researcher: $50
Corporate: $175