Barth Syndrome Scientific and Medical Virtual Symposium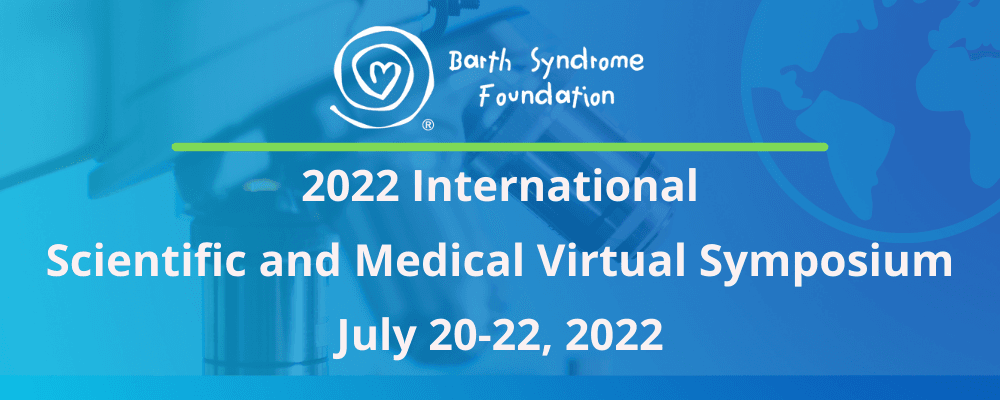 Join us for 3 days of the best and brightest in Barth syndrome and & cardiolipin research!
Our research community continues to make strides in advancing Barth syndrome science and medicine. And we invite you to join the presenters below for their selected abstracts featured in this year's agenda!
We thank the Organizing Committee members and look forward to providing more updates and details in the future!
July 20
Barth Syndrome Cardiomyopathy: Challenges & Opportunities
° Jessie Yester, UPMC Children's Hospital of Pittsburgh
° Carolyn Taylor, Medical University of South Carolina
° Colin Phoon & Reina Tan, NYU Langone Health
July 21
° Treatment & Quality of Life for Barth Syndrome
° Stacey Reynolds, Virginia Commonwealth University
° Brittany Hornby, Kennedy Krieger Institute
° W. Reid Thompson, Johns Hopkins University School of Medicine
Barth Syndrome Biology
° Elizabeth A. Jennings, University of Nevada, Reno
° Michael T. Chin, Medical University of South Carolina
° Robin E. Duncan, University of Waterloo
July 22
Barth Syndrome in Physiology
° Suya Wang, Boston Children's Hospital
° Jan Dudek, University of Würzburg
° Markus A. Keller, Medical University of Innsbruck
Cardiolipin in Physiology
° Mack B. Reynolds, University of Michigan Medical School
° Nanami Senoo, Johns Hopkins University School of Medicine
° Linh Vo, Wayne State University