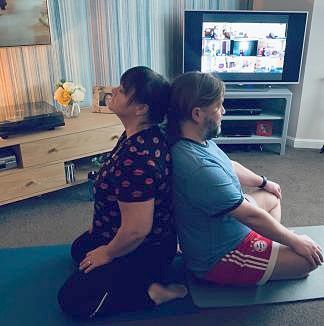 In March of 2020, life changed. No matter in the world where you lived, businesses and schools shut down. Given the stress of living with or caring for someone with Barth syndrome on top of the pandemic, BSF began to offer free online yoga classes for the Barth community last year.
Now, nearly one year later, "Corona Yoga" is still going strong, much to the surprise of those who participate. Instructor Cristy Balcells has served in a communications and advocacy support role for BSF since 2018. "As a mom to a handicapped child with mitochondrial disease who was now home from school, I was stressed. And as a nurse and yoga instructor, I knew the value of movement and mindfulness. I wanted to share that with the Barth community." Cristy began offering classes 4 times a week via Zoom, and most of the attendees had never done yoga before.
"I think about the times I've watched a yoga class from the other side of the door at the gym, and thinking I wish I could, but I was afraid. Now I absolutely and wholeheartedly have fallen in love with yoga, it is now part of me, and I am unashamedly proud of myself for trying", says Allanna in Scotland. Even her husband Tommy joins the sessions. "To my amazement, not only did I enjoy the workout on my body, but the mindfulness aspect was really helpful", he says.
Yoga is considered a "lifelong practice" because it can be adapted to people with many different abilities. And despite the stereotype, it's not all about being flexible. "I love that my shoulder and back pain have decreased so much, and that I can now do side planks and planks," says Michaela. But she notes, like most of the participants, that the mindfulness practice has been very powerful. "It's helped me change my mindset from focusing on what I don't have to being grateful for who I am, what I can do, and for all that I have."
Chris started doing yoga when his hockey team cancelled practices and games. "I love the interaction with the others in the group (even though I've been told I make a lot of noise in class). So far my biggest accomplishment has been being able to touch my toes." Classes are offered online at no cost to interested members of the Barth syndrome community on Mondays, Wednesdays, Thursdays and Saturdays at 9:30 am Eastern time. For more information, contact Cristy.