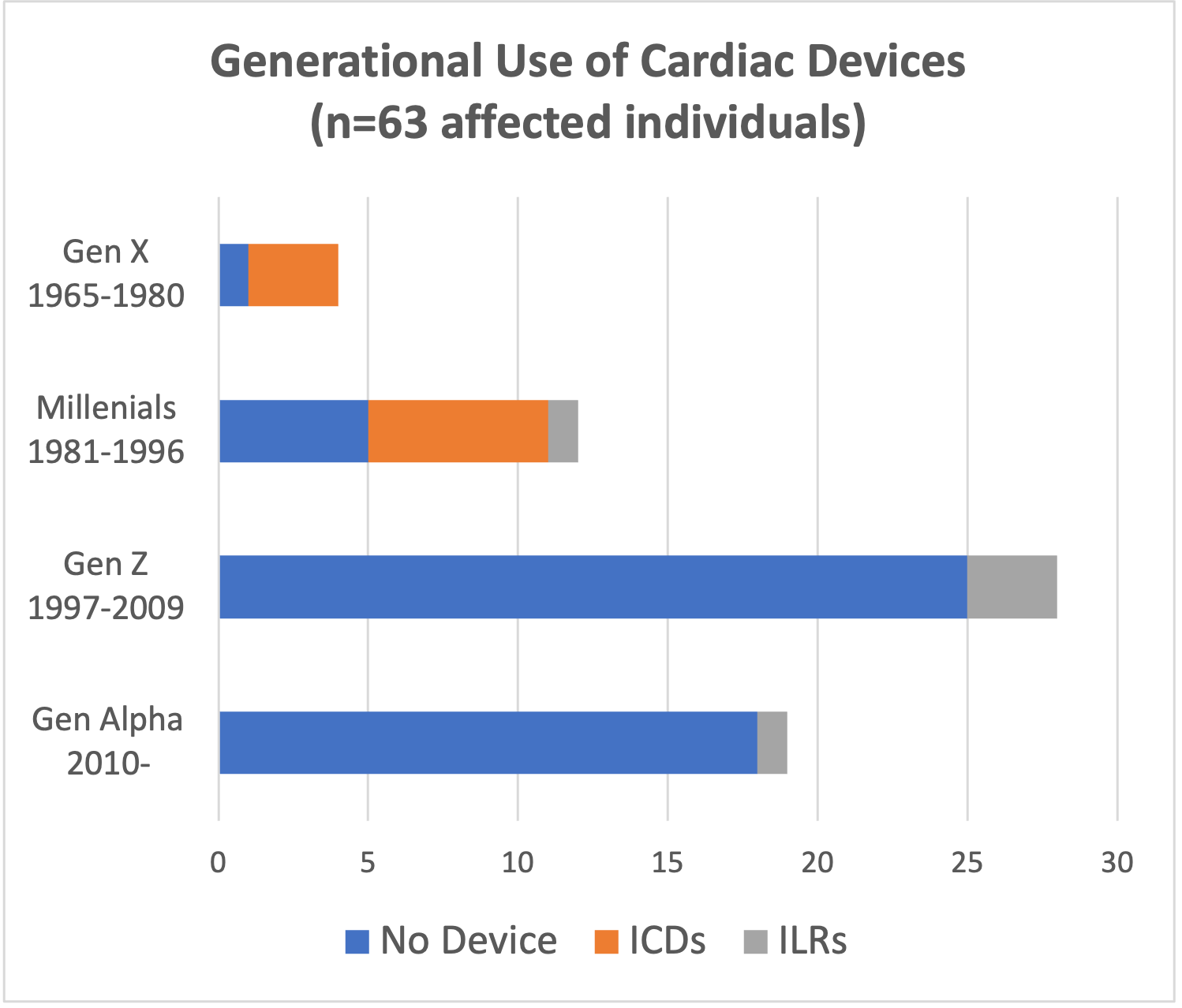 Despite the documented and suspected cases of tragic sudden cardiac death due to arrhythmia experienced by our community, limited information is available about the risk factors that predispose an affected individual to these life-threatening events. Utilizing the Barth Syndrome Patient Registry and involving on-site conference research participation by our affected individuals, clinical champions like Dr. Carolyn Taylor (MUSC) and Dr. Randall Bryant (Sanger Heart & Vascular Institute) have tracked and published cases of arrhythmia and sudden cardiac death in affected individuals, pointing towards a risk associated between Barth syndrome, arrhythmias, and sudden cardiac death.
In recently published BSF-funded research, Dr. Bill Pu (BCH, SMAB member) and his research team documented and measured arrhythmias in the heart-specific TAFAZZIN Knockout (CKO) mouse. Dr. Pu reported that a subset of CKO mice presented with heart block, atrial tachycardia, and bidirectional ventricular tachycardia. To explore the mechanism behind these arrhythmias, Dr. Pu induced pluripotent stem cells (iPS cells) to mature into heart cells and found that impaired calcium signaling and a subsequent decrease in the ability of Barth heart cells to contract contributed to this arrhythmia phenotype.
It was in this background and with the obvious unmet need in mind that BSF launched the Barth Heart Device Survey in February 2021 to better understand the use of devices such as internal cardiac defibrillators (ICDs) and implantable loop recorders (ILRs) – with the former serving to monitor and regulate heart rhythm when abnormal heartbeats are detected, and the latter conducting real-time, remote heart rhythm surveillance. With the participation of 63 affected individuals across the world, we have learned that nearly a quarter of respondents have some form of implanted cardiac device.
Nine individuals reported use of an ICD and were generally older affected individuals. The six reported users of ILRs, on the other hand, span affected individuals with ages 4-29 years old. Although age distribution differed in the two instances, interviews with families and affected individuals indicate that ICD and ILR use was either prescribed by a treating cardiologist or was a reaction to cases of sudden cardiac death by affected individuals in the community.
During our recently completed strategic plan, the BSF Board decided to prioritize our organizational efforts in several specific, well-considered areas in order to best advance our mission – one of which is improving clinical disease management. It is clear that arrhythmias are a significant and serious medical challenge faced by our community, and so we have selected this as our first clinical focus area that will receive investment (meaning our time and money) during 2021. As a result, we have launched the BSF Arrhythmia Working Group, co-chaired by Dr. Brian Feingold (U Pittsburgh, SMAB) and Dr. Colin Phoon (NYU), with members including Dr. Carolyn Taylor, Dr. Bill Pu, Dr. Reid Thompson (JHU/KKI Barth Clinic), Dr. Reina Tan (NYU), and Dr. John Jefferies (UTHSC, SMAB). This all-star team of cardiologists and electrophysiologists will seek to develop a collaborative, multi-institutional effort to better understand and proactively address the unmet clinical need of arrhythmia risk in Barth syndrome.
We heard you and now we need your continued participation to inform, guide, and drive this effort.
Given the rarity of Barth syndrome and the geographical distribution of our community, we are issuing a call to action to our global community who have not yet, to participate in the multilingual Barth Heart Device Survey. By sharing your information and indicating your willingness to participate in research, the Arrhythmia Working Group can better determine the research approach that is both ideal and feasible to answer this unmet need. 
With your engagement, the entire Barth community can address this challenge together. Click here to participate.