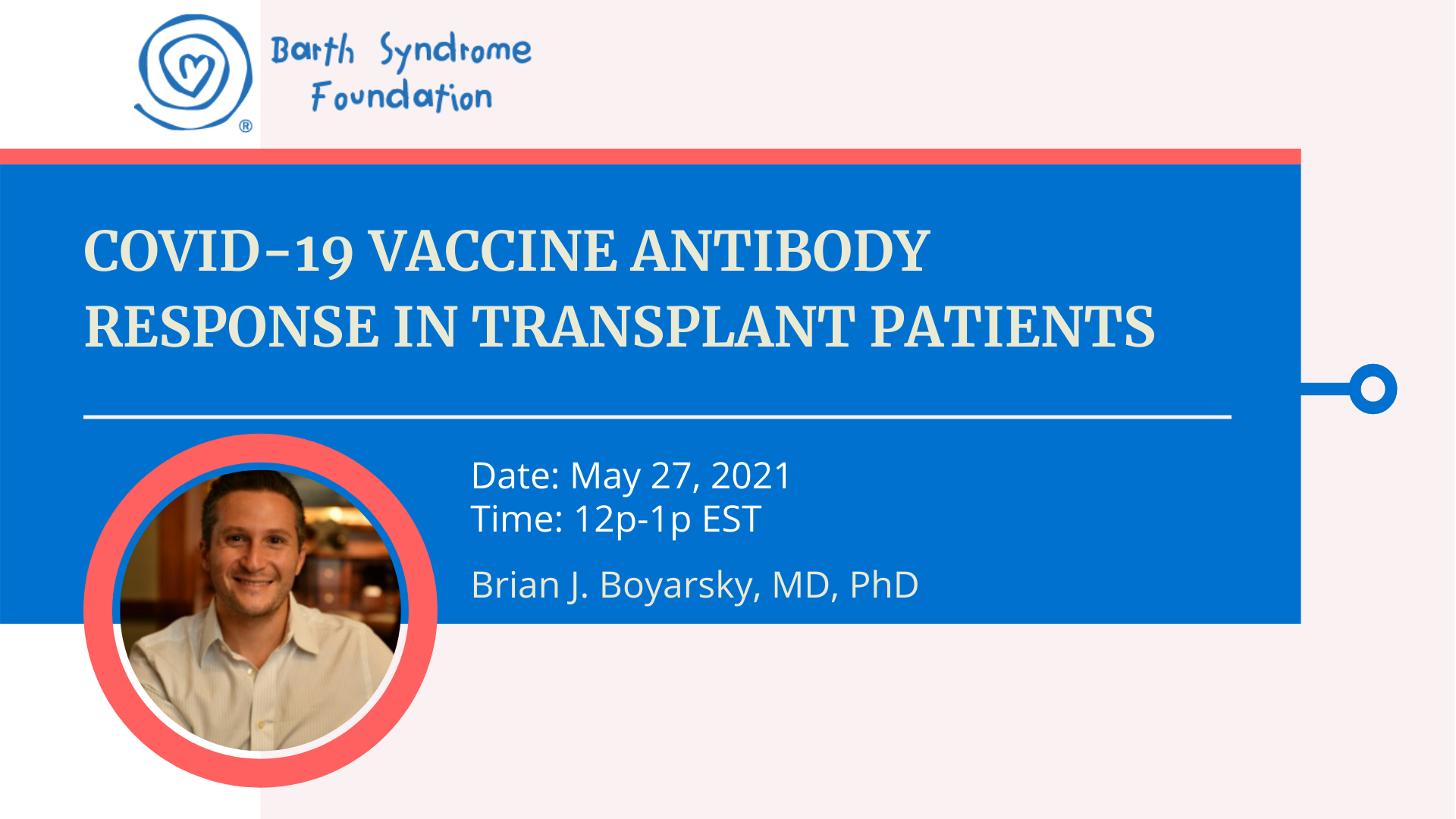 Barth Syndrome Foundation is proud to launch the 2021 Barth Webinar series with a presentation and discussion with Brian J. Boyarsky, MD, PhD. He will discuss his team's ongoing and recently published efforts to assess how well an immune response is generated, or the immunogenicity, of mRNA-based COVID vaccines (Pfizer/BioNTech and Moderna) in solid organ transplant recipients. Dr. Boyarsky's timely and relevant COVID-19 research has been recognized by the White House, published in JAMA, and featured on Fox News. 

This effort is of immense interest and value for the Barth and transplant communities as individuals with compromised immune systems were excluded in the mRNA vaccine trials. Furthermore, given the daily regimen of immune-suppressing drugs taken by our community of transplanted individuals, understanding the interplay of mRNA COVID vaccines and transplant status has long-term and real-time impact as we navigate our way through the pandemic. Join us to hear Dr. Boyarsky discuss the scope, findings, and next steps of the National Vaccine Research Study for Transplant recipients being conducted by the Epidemiology Research Group in Organ Transplantation. 

Boyarsky is a surgery resident at the Johns Hopkins University School of Medicine, Department of Surgery. He graduated with his medical degree at Rutgers Robert Wood Johnson Medical School and recently earned his PhD from the Johns Hopkins Bloomberg School of Public Health under the mentorship of Dorry L. Segev, MD, PhD.
COVID-19 Vaccine Antibody Response in Transplant Patients
with Brian Boyarsky, MD, PhD, Johns Hopkins University School of Medicine
Thursday, May 27th, 2021 | 12:00 pm Eastern time via Zoom