The Barth Syndrome Foundation (BSF) plays a unique role as the only organization in the world with the largest cohort of individuals who have Barth syndrome (BTHS), and dissemination about research and phenotype of the disorder.
In an effort to provide healthcare professionals and families alike with an invaluable diagnostic tool we are expanding our current Registry and Repository to:
reflect genotype/phenotype relationship
include benign variants with ultimate diagnosis of a disorder other than BTHS
expedite updates in genetic classifications from "unknown significance"
This database includes mutations and variants even when they are repeated. However, they must be present in unrelated families. The aim is to provide information to physicians as to whether or not a mutation found in a patient has been seen before in other affected individuals. The database is also used by researchers. Mutations and variants listed come from the literature, from direct submission by laboratories, and from direct submission by affected families. Pathogenicity of many of the mutations is confirmed by monolysocardiolipin/ cardiolipin assay; mRNA study has characterized some of the splicing variants; large evolutionary alignments provide information about amino acid conservation; family information regarding de novo mutations is included; the functional effects of human TAFFAZIN mutations modeled in yeast are included. There are links to the PubMed abstracts of references.
(Last updated 14-Oct-2020)
---
Special Request for Healthcare Providers
We need your cooperation to accomplish this goal! We would like to be in contact with you if you are a healthcare professional who has:
previously treated or is currently treating an individual with a genetic diagnosis of BTHS
previously treated or is currently treating an individual who has had molecular studies with a result of a benign variant of BTHS
previously treated or is currently treating an individual who has had molecular studies with a result of an unknown variant of BTHS
For more information about the services we provide, please contact us.
Please provide the following information for adding your mutation(s) to the Table:
Use reference sequence NM_000116 (11 exons).
Mutation position, counting from AUG in the mRNA: Specific nucleotide change (substitution, deletion, insertion). F.ex., c.51G>A, or c.53_54delCC, or c.157dupC.  
Mutation effect at protein level (f.ex.: p.Gly197Arg, or p.Tyr51*, or p.Leu53Argfs*79).  Please use the 3 letter abbreviation for amino acids to prevent confusion with nucleotides.
If a splice mutation, indicate the position in the intron counting from nearest exon.  F.ex., c.110-2A>G
How do we cite your contribution in the Reference/attribution list?  f.ex., Direct submission, Jane Doe, Ph.D., Hospital / Laboratory name.  If the case has been published, please provide us with the literature citation and how the subject is identified in the citation (f.ex., case #3, or case JL).
If you know that the mutation is de novo, please state so. Also include if you know in whom the mutation originated (mother, grandmother, grandfather).
If you have tested cardiolipin/MLCL levels, please tell us the result so it can be included in the proper column (column F).
Any supporting information?  mRNA, familial segregation, etc.
If you have found variants in other relevant genes, please add this information as there is a separate column for these in the database (column J).  F.ex., variant in MYH7, in DMD,  etc.
If you have found any benign variants, please also tell us about it to add them to the appropriate section at the end of the database.
Please send this information to:
Iris L. Gonzalez, PhD, Senior Research Scientist, Molecular Diagnostics Laboratory, A. I. duPont Hospital for Children, Wilmington, DE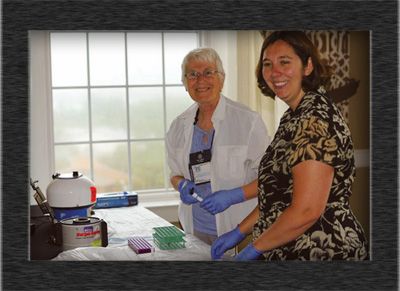 (Last updated 10-Feb-2020)